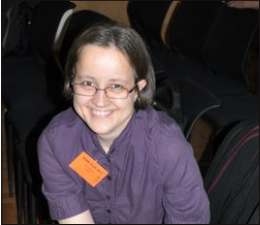 Elizabeth Krumbach: Can you tell us a little about yourself?
Jasna Benčić: Hi to everyone. My name is Jasna and I come from Croatia. Currently I am a graduate student at Faculty of Organization and Informatics, (still working on my master's thesis). Recently I had a chance to join: Croatian Linux Users' Association as a vice president, Muktware Linux and Free Software Magazine team as an editor/contributor, and Ubuntu Weekly Newsletter team as a summary writer/editor.
EK: What inspired you to get involved in the Ubuntu community?
JB: Well, I wouldn't call it an inspiration. What drove me to the Ubuntu community is a need for gaining new experience and meeting new people. I mean, I have been in the Ubuntu world since 8.04. It is still my favourite edition because I started with that distro – but not like an everyday user. I had a bachelor thesis "Characteristics of Ubuntu operating system". When I started I didn't have a clue what I got myself into. As time went by, I became more comfortable and I have loved Ubuntu since then. I must add that all these years I've been watching you guys on Youtube (UDS, etc..) and now I actually want to meet you and work with you.
EK: What are your roles within the Ubuntu community, and what plans do you have for the future?
JB: Currently I am working as a summary writer/editor at Ubuntu Weekly Newsletter. Plans 🙂 There is a saying: "Don't talk about your plans because there is a possibility you won't accomplish them." I'd say that I have dreams considering Ubuntu and everything else. Will those dreams come true, it depends on a lot of factors, mostly me. My current dreams are: Work one day for Canonical, make education for pupils/students much more interesting and fun (at least in the area of Informatics since that is my profession).
EK: Have you hit any barriers with getting involved, and what can you recommend to newcomers?
JB: No barriers really. You have been so approachable and helpful. I thank you a zillion times for that. I would recommend to newcomers: If you are in the Ubuntu world, and you want to gain more experience, do not hesitate to ask official members to join in. There are a lot of projects to get yourself involved in. You never know what kind of opportunities you might get.
EK: Is there anything you feel the Ubuntu project could improve on when it comes to new folks coming to the project?
JB: Nothing really. Maybe I am too subjective but, ever since I started with the Ubuntu Weekly Newsletter, I've had a chance to read blogs of official Ubuntu members. What I mean to say is, that every Ubuntu member is working on some project/part of Ubuntu, and every now and then they are asking for volunteers – while offering to help them to get involved. What more do you need? I even wondered where could I get official mentorship from Canonical… Then I told myself: "Ask official members of the Ubuntu project where you want to get yourself involved."
EK: What other things are you interested in outside of open source and Ubuntu?
JB: Related to my profession: Informatics in education, education psychology and methodology. Everything else is a mixture really: 3D (Blender), foreign languages, cooking, stand up comedy, education through whole life. To conclude this answer, there are a lot of things I'm interested in because I have a curious personality.
Originally posted by Elizabeth Krumbach in Full Circle Magazine Issue #63 on July 27, 2012