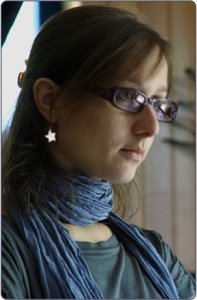 Elizabeth Krumbach: Please tell us a little about yourself.
Silvia Bindelli: I'm Silvia Bindelli, I'm 27 years old. I was born and spent my childhood in Verona (the city of Romeo and Juliet!), Italy, but I currently live in Milan. I'm a computer engineer and I work in the IT Department of a fashion company, where I'm in charge of the management of a Business Process Management suite and of any little web project undertaken in the company. I've been using Ubuntu for almost five years now, and I really enjoy it!
EK: What inspired you to get involved in the Ubuntu community?
SB: My first contact with the Ubuntu Community was through the Ubuntu-Women Group, in late 2007. I joined it since I was so happy with this Operating System I was willing to give my contribution to spread its use. I knew the percentage of women using it was really low, and I thought this is mainly due to a certain "ignorance": it's hard to use a software you don't know, or you have a lot of prejudices about. Joining this group I was willing to give my contribution to promote Ubuntu, starting from women. Far later, through this group I got in touch with Flavia Weisghizzi, the first (and still the only!) Italian female Ubuntu member. She introduced me to the Italian Loco Team, which I belong to since December 2010.
EK: What are your roles within the Ubuntu community?
SB: I write weekly on the Italian Edition of the Ubuntu Newsletter, and participate to other promotion initiatives. I'm also contributing with some translations. I'm co-founder and co-administrator of the Italian localization of the Ubuntu Women Team, through which Flavia and I are trying hard to take Ubuntu as near as possible to Italian Women, also those not speaking English. We're now starting a collaboration with Girl Geek Teams from Milan and Rome, organizing events about open source and Ubuntu in particular targeted to women, and writing posts on girlgeekdinnersitalia.com blog including some guides introducing to the use of Ubuntu.
EK: Is there anything you haven't done yet, but would like to get involved with in the Ubuntu community?
SB: Well, as a first thing, I would like to do more in the projects I'm already involved in, i.e. translation and promotion. Then, I would love to get more involved with web projects (web sites and so forth), exploiting my experience in the field and matching this way my interests in web. And…well, I'd also like to try some coding: I have friends in the Ubuntu-it Community trying to get me involved in the development team, and I think I'll let them convince me, earlier or later!
EK: What other things are you interested in outside of open source and Ubuntu?
SB: During my day I spend a lot of time in front of my laptop. I'm much interested in web technologies, communication and open source, and I love it when these aspects match in some tools! I love traveling, visiting new places and understanding how people all over the world live. I enjoy learning foreign languages, thus I'm currently studying Spanish. I'm also interested in photography: wherever I go I try and bring my reflex with me! And cooking! I do love cooking and trying new recipes, which I usually test with my friends.
Originally posted by Elizabeth Krumbach in Full Circle Magazine Issue #45 on January 27, 2011