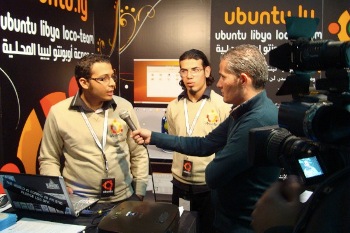 Starting a new local comunity group requires a mixture of dedication, enthusiastic people and the will to make things happen. And having fun at it. The folks at the Ubuntu Libyan LoCo seem to have all the ingredients for the recipe to success and are showing them off on their way to becoming an approved LoCo team.
Ubuntu is the most used distro in Libya, and the team was born with the lofty goal of supporting the Ubuntu users in the country. Since they first joined the Ubuntu family in Karmic, a lot new members have joined in. They've participated in a great deal of workshops, meetings and discussions, which allowed them to shape the team's plans and goals.
While doing that, they've also participated in educational events organized by local universities and private educational institutes, and we're going to focus in one of them.
As part of its activities and ongoing strive to increase the knowledge of GNU/Linux and Open Source Software, the Ubuntu Libya LoCoTeam participated in the Technology & Science Fair, organized by The Libyan Information Technology Group during the week of Dec 6th-12th 2009 and hosted by the Al-Fateh University in Tripoli, Libya.
The Libyan Information Technology Group kindly provided a dedicated booth for the Ubuntu Libya LoCoTeam, with an elegant and attractive black and orange Ubuntu theme that clearly stood out in the Fair.
During the period of the Fair, the Libya LoCoTeam distributed 500 ubuntu Karmic CDs to visiting students, IT specialists, Instructors and IT consultants. An Ubuntu installation workshop was also organized by the team after an introductory presentation about Ubuntu.
Many visitors were interested to know more about Ubuntu and Open Source Software and this event was a great opportunity for the Ubuntu Libya LoCoTeam to spread their knowledge and enthusiasm.
Their next event is going to be Libya's first installfest, for which they've set themselves a target of 1000 attendees.
Amazing.
Links
IRC channel at #ubuntu-ly on Freenode
LoCo contact: Mohamed Ayad
With special thanks to Mohamed Ayad for providing and translating the content from Arabic