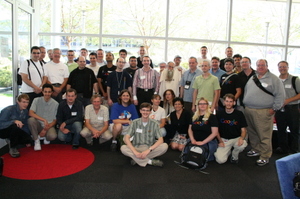 Photo Credit: Andrey Kuznetsov
With San Francisco LinuxWorld Expo barely having finished, the Ubuntu camp have picked up their bags and headed across town for the world-famous Ubucon.
Thanks to the brilliant directions (courtesy of SVLUG, the Silicon Valley Linux Users' Group) everyone made it safely to their destination: The Googleplex HQ in the heart of Mountain View, Californa, west-coast USA.
Upon arrival thirsty people grabbed a snack and drinks, Google apparently have both Pepsi and Coke on tap amongst their other unlimited treats for staff. After refreshing themselves serious disscusion ensued, with those present all keen to see the new T-shirts. The floor apparently turned into "a mosh pit down there, when they opened the boxes up", described one exhilarated attendee. Ubuntu is about equality and there were shapes size for both genders, it was pointed out that they were "T-shirts for human beings"! On the front they have our circular logo over the word Ubuntu, on a light-tan coloured material and around the back, the question "Do you Ubuntu?". I think the people that didn't get one are secretly holding out for real Goobuntu t-shirts, perhaps next year?